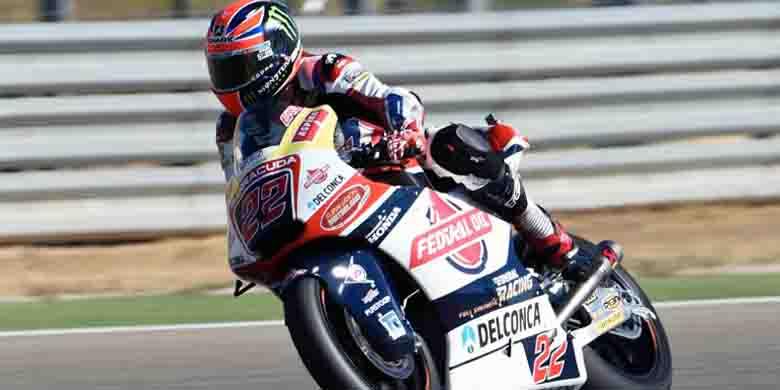 Aragon, Unilinkrc.info – Sam Lowes, pebalap Honda Gresini Federal Oil, memenangi Moto2 GP Aragon, di Spanyol, Minggu (25/9/2016). Joki yang berasal Inggris kelahiran 26 tahun yg dahulu ini terlalu kuat untuk para pesaingnya kali ini.
Lowes finis lebih cepat tiga detik ketimbang Alex Marquez (Estrella Galicia 0,0 Marc VDS) yg akhirnya memenangi podium kedua setelah bertarung ketat dengan rekan setimnya Franco Morbidelli di posisi ketiga.
???? #Moto2 @SamLowes11 DOMINATES the #AragonGP, taking victory by well over 3 seconds!???? https://t.co/Y74B6dcseK

— MotoGP™ (@MotoGP) 25 September 2016
Sejak awal lomba, Lowes mendapat tantangan dari Marquez. Keduanya dapat jadi sangat serius berperang sampai memisahkan diri dari kelompok pebalap di belakangnya.
Saat balapan masih menyisakan lima putaran lagi, Lowes telah unggul tiga detik dari siapapun. Pertarungan menarik justru diperlihatkan oleh Alex Rins (Paginas Amarillas HP 40), Johan Zarco (Ajo Motorsport), dan Lorenzo Baldassarri (Forward Team) yg berebut posisi 6.
It's the @TeamEG00MarcVDS duo on the podium, as @alexmarquez73 holds off a final corner attack from @FrankyMorbido12! ???????? V ????????????#AragonGP pic.twitter.com/M4QuRukpev

— MotoGP™ (@MotoGP) 25 September 2016
Menjelang finis, adegan penuh aksi justru kelihatan di belakang Lowes. Marquez dan Morbidelli selalu menempel. Namun, akhirnya Marquez mengamankan posisi kedua.
Adik Marc Marquez ini naik podium buat pertama kalinya dan bertepatan di hadapan publik sendiri. Marc Marquez kelihatan segera mendekatinya di podium buat memberikan selamat. 
Hasil Moto2 GP Aragon:
1. Sam Lowes GBR Federal Oil Gresini Moto2 (Kalex) 40m 0.885s
2. Alex Marquez SPA Estrella Galicia 0,0 Marc VDS (Kalex) 40m 4.174s
3. Franco Morbidelli ITA Estrella Galicia 0,0 Marc VDS (Kalex) 40m 4.206s
4. Thomas Luthi SWI Garage Plus Interwetten (Kalex) 40m 6.066s
5. Takaaki Nakagami JPN IDEMITSU Honda Team Asia (Kalex) 40m 11.607s
6. Alex Rins SPA Paginas Amarillas HP 40 (Kalex) 40m 13.049s
7. Lorenzo Baldassarri ITA Forward Team (Kalex) 40m 13.270s
8. Johann Zarco FRA Ajo Motorsport (Kalex) 40m 13.497s
9. Simone Corsi ITA Speed Up Racing (Speed Up) 40m 14.889s
10. Jonas Folger GER Dynavolt Intact GP (Kalex) 40m 19.049s
11. Xavier Simeon BEL QMMF Racing Team (Speed Up) 40m 23.298s
12. Mattia Pasini ITA Italtrans Racing Team (Kalex) 40m 23.556s
13. Sandro Cortese GER Dynavolt Intact GP (Kalex) 40m 23.794s
14. Hafizh Syahrin MAL Petronas Raceline Malaysia (Kalex) 40m 24.322s
15. Marcel Schrotter GER AGR Team (Kalex) 40m 26.178s
16. Axel Pons SPA AGR Team (Kalex) 40m 26.713s
17. Xavi Vierge SPA Tech 3 Racing (Tech 3) 40m 27.289s
18. Steven Odendaal RSA AGR Team (Kalex) 40m 27.410s
19. Remy Gardner AUS Tasca Racing Scuderia Moto2 (Kalex) 40m 31.226s
20. Jesko Raffin SWI Sports-Millions-EMWE-SAG (Kalex) 40m 31.323s
21. Julian Simon SPA QMMF Racing Team (Speed Up) 40m 31.390s
22. Dominique Aegerter SWI CarXpert Interwetten (Kalex) 40m 42.652s
23. Tetsuta Nagashima JPN Ajo Motorsport Academy (Kalex) 40m 42.904s
24. Edgar Pons SPA Paginas Amarillas HP 40 (Kalex) 40m 42.943s
25. Luca Marini ITA Forward Team (Kalex) 40m 46.329s
26. Ratthapark Wilairot THA IDEMITSU Honda Team Asia (Kalex) 40m 46.514s
27. Robin Mulhauser SWI CarXpert Interwetten (Kalex) 40m 56.771s
28. Isaac Viñales SPA Tech 3 Racing (Tech 3) 40m 56.774s
29. Danny Kent GBR Leopard Racing (Kalex) 40m 46.807s
Alan Techer FRA NTS T Pro Project (NTS) DNF
Read more at http://www.crash.net/MotoGP/results/233899/1/moto2-aragon-race-results.html#RTc4EDsTZQEXR1ja.99
Sumber: http://otomotif.kompas.com